Jean Ford Keane
Jean Ford Keane
Associate Vice Chancellor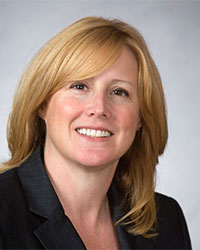 9500 Gilman Dr
La Jolla , California 92093
Bio

Jean Ford Keane is associate vice chancellor for UC San Diego Health Sciences Advancement. She is responsible for all aspects of development for UC San Diego Health, UC San Diego School of Medicine, and Skaggs School of Pharmacy and Pharmaceutical Sciences.

Ms. Ford Keane is spearheading the health sciences portion of UC San Diego's campus wide campaign. About half of the $2 billion goal is expected to be directed toward health sciences initiatives.

Ms. Ford Keane joined UC San Diego in 2015 after ten years at Columbia University Medical Center, where she most recently served as vice president for development. Under her leadership, Columbia raised more than $2 billion against a $1.75 billion campaign goal. She also contributed to the development of a Patient Facilitated Service Program, aimed at providing philanthropic partners with enhanced patient care coordination, and established several fundraising boards for multidisciplinary programs.

Her extensive leadership experience also includes service as vice president for development at the Mount Sinai Medical Center and at Hudson Guild, an agency serving the community of Chelsea in Manhattan, where she was assistant executive director for resource development and public relations. In each of these positions, she played a key role in shaping fundraising strategy and policy, managing operations and staff, and working closely with governing boards and key constituents.

Ms. Ford Keane received her Bachelor of Arts in government and politics from Manhattan College in New York City.