COVID-19 Crisis Inspires Undergraduate Ventilator Research Project
COVID-19 Crisis Inspires Undergraduate Ventilator Research Project
January 4, 2021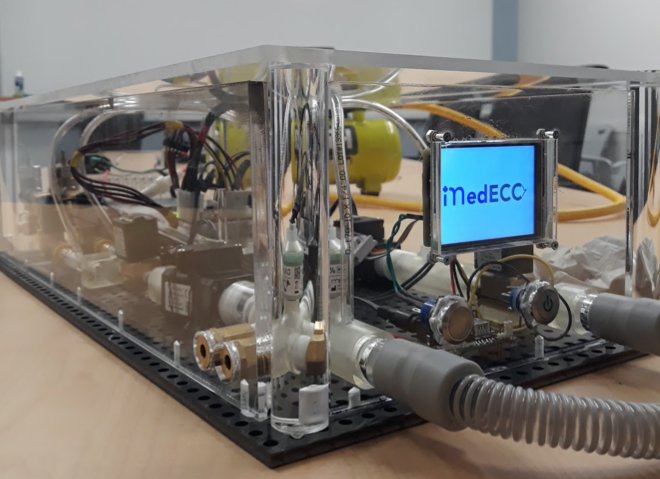 In March 2020, the trajectory of the COVID pandemic was uncertain. Worst case models were catastrophic, with 0.9 million patients predicted to require Mechanical Ventilation simultaneously in the USA alone. Consortia of industry, academia and industry were addressing various shortcomings in equipment. 
Professor Ryan Kastner's Research Group (KRG) was eager to pitch in. In particular, PhD student Michael Barrow had been focused on interdisciplinary collaboration between the schools of Engineering and Medicine with his co-advisor Professor Sonia Ramamoorthy, prior to the crisis. 
Specifically, the KRG and collaborators had identified strategies to defeat barriers to efficient use of technology in medicine, caused by communication issues between clinicians and engineers. ..........
In March, a global cooperative spirit created ideal conditions for a team led by Barrow and Dr. Shanglei Liu to work on potential unmet needs of mechanical ventilation as the pandemic evolved.
Much of the work to this point has been refining a mechanical ventilation platform to meet the changing needs of the pandemic. Initially a primitive makeshift wooden device, the ventilator has evolved into a hybrid pressure / volume controlled ventilator, built to meet the requirements of ICU use.  
Currently, development of this platform is driven by a team of 12 undergraduate students co-advised by Professor Kastner and Barrow. The students, split into small, focused teams, have shown remarkable progress and aptitude in developing the complex sub-systems of the latest ventilator. 
Teams have specialist members from Mechanical Engineering, Electrical Engineering, and Computer Science majors, allowing them to tackle pneumatic, electro-mechanical, modem networking, life support control, and user interface projects in parallel. Most impressive is that these teams became productive within a single quarter (10 weeks) of meeting for the first time.
Looking forward, the group plans to tackle problems beyond the COVID crisis. Guided by Dr. Liu, the team has identified barriers to effective therapeutic use of mechanical ventilators in collaboration with specialists in pulmonology and anesthesiology. In 2021, the group aims to use their ventilator platform to develop new physician aids that defeat these barriers and increase the efficiency of the physicians who routinely use Mechanical Ventilation therapy.
Dr. Liu remarks "The work that Michael and the engineering students are doing are not only geared towards helping the COVID crisis, but are also tackling the very heart of the problems that critical care doctors face with mechanical ventilation. The technology they are working on aim to bring transformative change to the efficiency and safety to how we treat patients who are critically ill."