IEM Celebrates its Tenth Anniversary
On November 1st, 2018, the Institute of Engineering in Medicine (IEM) hosted its Tenth Anniversary Symposium. It was an enormous success, as over 200 Institute members and guests gathered at the Atkinson Hall in UC San Diego for a daylong celebration of IEM's accomplishments.
Chancellor Khosla kicked off the Symposium with a galvanizing speech. He praised IEM for its success and the important role it has played for UC San Diego.
"IEM brings a problem-solving thought process towards creating the next generation of cures to make the human condition better. It has been really spectacular."
His enthusiasm was echoed by Vice Chancellor of Health Sciences David Brenner, Jacobs School of Engineering Dean Albert Pisano and Associate Vice Chancellor Miroslav Krstic.
Dr. Shu Chien, the founding Director of IEM, reported on the progress and accomplishments of the IEM during the past decade. Its cutting-edge research has been well supported by extramural grant funding and has generated outstanding publications, a large number of US patents and many startups. IEM has collaborated effectively with units on campuses, neighboring institutions and industry, and has gained recognition both nationally and internationally. Over the past ten years, IEM has been a pioneer in enhancing human health by applying engineering principles and technologies to improve health and the diagnosis, treatment and prevention of diseases. Dr. Chien closed by emphasizing that we look forward to even greater achievements in the future:
"The next decade is here. Let's work together to make this happen with the next generation of scientists, engineers, and physicians."
Throughout the day there were two podium sessions which presented a series of outstanding and fascinating lectures by IEM faculty. The subjects included the use of engineering principles and techniques to treat heart disease, cancer, diabetes, and neonatal problems, as well as performing color-coded surgery and developing wearable sensors. The attendees had lively interactions with the speakers during the Q&A in panel discussions. Here, the public gained an exciting summary of IEM's groundbreaking research.
An excellent array of posters highlighted the innovative and brilliant research of IEM-affiliated students. There were over forty poster boards shown by a combination of undergraduate, graduate, and PhD students. There were also technology demos with excellent displays of the real-world applications produced from IEM's research. Examples include 3D bioprinters of human tissues with speed and accuracy for disease modeling and drug testing, fluorescent imaging of cancer cells that allows surgeons to remove tumors with precision, and a portable device that incorporates Virtual Reality with neuromonitoring for physicians to assess visual impairment in glaucoma patients.
In the lobby of Atkinson Hall, the atmosphere was electric. Students, researchers and guests from a wide variety of disciplines gathered to exchange ideas with excitement, galvanized by the speeches, posters and demos at the Symposium.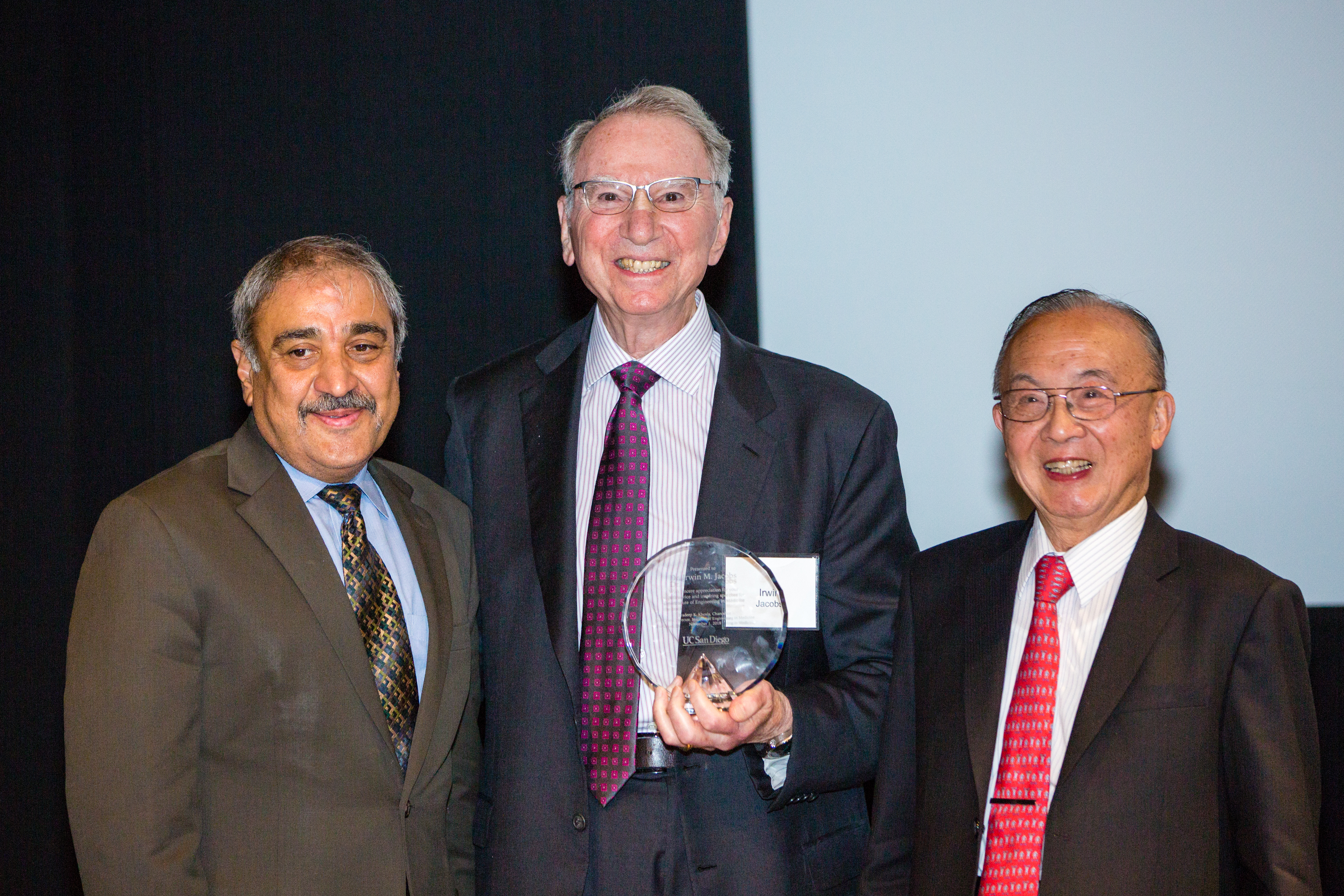 In the closing session of the Symposium, Irwin Jacobs truly brought the Anniversary Symposium home with his keynote address. Jacobs, the co-founder of Qualcomm and influential San Diego leader, has contributed significantly to IEM's success. In his speech, he praised IEM's growth over the past decade.
"It is great to be back after ten years to see what has occurred," he said. "I've been tremendously impressed with everything that has happened thus far. The next ten-year period is going to be a fascinating one."
The Anniversary Symposium provided not only a wonderful occasion to look back, but also a great opportunity to envision the fascinating possibilities of the future. This is an exciting time for IEM. Sincere thanks to all who attended and helped celebrate this important milestone. To learn more about IEM, please visit its website at iem.ucsd.edu or contact iem@ucsd.edu.
[Images Courtesy of Wonderstruck Photography].