Alex Sette
Center Head, Division Head, and Professor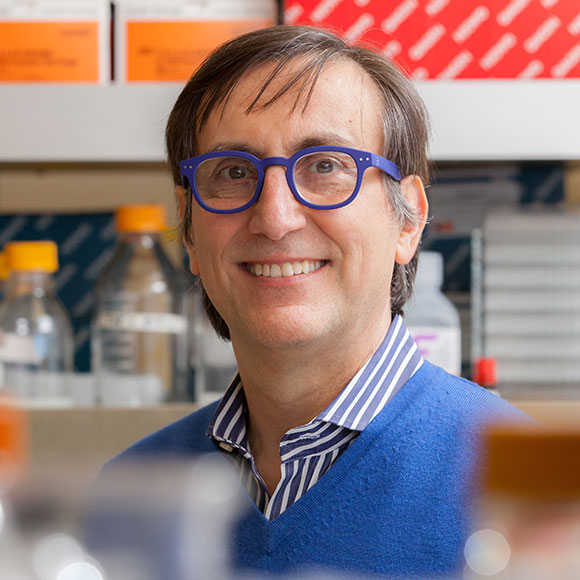 9500 Gilman Drive #0656
La Jolla , California 92093
Profile

Dr. Sette is currently a Member and Head of LJI's Division of Vaccine Discovery as well as chair of the Institute's Center for Infectious Diseases. Dr. Sette has a doctorate in Biological Sciences from the University of Rome and did postdoctoral work at the National Jewish Center for Immunology and Respiratory Medicine in Denver, Colorado. In 1988, Dr. Sette joined Howard Grey, M.D. at the newly founded Cytel, in La Jolla, and was also appointed as an adjunct assistant professor at The Scripps Research Institute. He founded Epimmune in 1997, where he served both as Vice President of Research and Chief Scientific Officer until 2002, when he joined LJI.

Dr Sette is a leader in the field of T cell epitope-MHC interactions, beginning with his contribution to the discovery of the biological function of MHC in the mid 80s to mid 90s. From those studies he and his collaborators further developed the notion that different MHCs have distinct binding specificities that can be used to predict epitopes. The Sette group also discovered and characterized how MHC variants can be grouped according to broad common functional specificities (MHC supertypes), greatly facilitating epitope classification, characterization and understanding the basic rules of epitope-MHC interactions. At the same time, several studies have outlined the fine specificity of different closely related alleles, in some cases clearly associated with predisposition to disease resistance or susceptibility.

 

 

 

Key Words:

Bordetella, discovery, epitopes, immune epitope database (IEDB), Mycobacterium, Parkinson's, pertussis, T cell, tuberculosis, vaccine.
Research Summary

Dr. Sette, a leader in the field of T cell epitope –MHC interactions is currently a faculty and head of LJI's Division of Vaccine Discovery and the chair of the Institute's Center for Infectious Diseases. Dr. Sette and his team study epitopes and have used them as immune signatures to define different diseases/disease states which has improved the understanding of immune responses at the molecular level.  The main thrust of Dr.Sette's current research is weighted towards immune response evaluation. Systematic comparisons are made between T cell signatures of healthy, infected, and vaccinated individuals to define the immunological basis of inter-individual differences in protection by vaccines.  The lab combines state-of-the –art characterization tools in basic biology, immunology and bioinformatics. Specifically, the lab has the capacity to measure antigen, phenotype cells, and comparatively analyze diseases outcomes. Dr. Sette currently works on the following research areas i) Epitope identification and understanding the role of T cells and HLA variants in the development of Dengue virus (DENV) disease ii) Isolation of Mycobacterium tuberculosis (MTB) specific T cells to identify T cell signatures that distinguish cleared, infection, stable latent infection, and latent infection with high risk of progression to disease states iii) compare epitope repertoires to explore the molecular basis for differences in T cell responses between acellular Bordetella pertussis vaccine (aP) and whole bacteria bacteria (wP) primed individuals. Dr. Sette (along with Bjoern Peters) is also the curator of immune epitope database (IEDB) which provides free access to the biomedical researchers to the world's largest collection of epiopes and related data. Dr.Sette's work informs design of vaccines in allergy that are epitope based rather than formulation or adjuvant based.

Although Dr. Sette extensively collaborates with big pharmaceutical companies routinely, his contributions involve vaccine evaluation rather than developing a vaccine. As such there are no specific plans on the translational side. Dr. Sette is also researching the area of Parkinson's and is continuing his work to define different antigens for Parkinson's as well as other neurodegenerative disorders. Dr. Sette will avail the ideas and progress them towards translation with the help of business development at LJI in the future if any plans develop.

Dr. Sette collaborates closely with Bjoern Peters, Vijay Panduragan, and Shane Crotty at LJI.

More information about Dr.Sette's work can be found here: