Andrew Barleben
Assistant Clinical Professor, Surgery, UC San Diego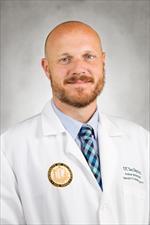 9300 Campus Point Dr
La Jolla , California 92037
Bio

Andrew Barleben, MD, is a board-certified vascular surgeon, specializing in the treatment of a variety of conditions and diseases, including thoracic and abdominal aortic disease, carotid artery disease, cerebrovascular disease, peripheral artery disease, renal artery disease, mesenteric artery disease, peripheral vascular disease, varicose veins, venous ulceration and deep vein thrombosis.

Dr. Barleben performs a variety of advanced open and endovascular interventions, including standard and branched endografts in the aorta, carotid interventions, hemodialysis procedures, open abdominal and thoraco-abdominal aortic procedures and peripheral interventions, such as angioplasty, atherectomy and arterial and venous procedures. Dr. Barleben is also a surgeon on staff at the VA San Diego Healthcare System.

Some of Dr. Barleben's research interests include carotid and aortic outcomes, flow modeling, peripheral interventions, device development, aortic aneurysm repair and arterial sac embolization. His studies have been published in a variety of journals, including Journal of Vascular Surgery and JAMA Surgery. He has authored book chapters on pelvic anatomy and physiology and the surgical prevention of stroke.

Dr. Barleben completed his vascular surgery fellowship at UC Los Angeles and his general surgery residency at UC Irvine. Prior to that, he earned his medical degree and master's degree in public health and international health at New York Medical College. As an undergraduate, he studied chemical engineering at the Colorado School of Mines.

Dr. Barleben is a member of the American College of Surgeons and the Society of Vascular Surgery.
Center
Press
Flynn S, Jensen R, Lane J, Bandyk D, Malas M,

 

Barleben A. Novel Approach To Treatment Of Chronic Iliocaval Occlusion Utilizing Covered Stents. Ann Vasc Surg. 2020 Mar 13. PMID: 32173477.

Locham S, Hussain F, Dakour-Aridi H,

 

Barleben A, Lane JS, Malas M. Hospital Volume Impacts the Outcomes of Endovascular Repair of Thoracoabdominal Aortic Aneurysms. Ann Vasc Surg. 2019 Oct 17. PMID: 31629842.