Eric Adler
Clinical Professor, Medicine, UC San Diego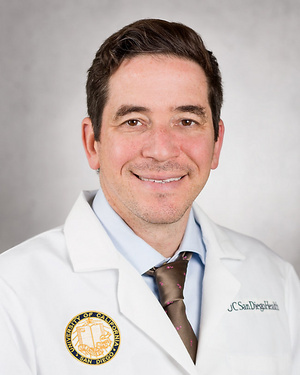 9300 Campus Point Drive #7411
La Jolla , California 92037-7411
Bio

Eric D. Adler, MD, is a board-certified cardiologist and medical director of heart transplant and mechanical circulatory support. He specializes in advanced heart failure, mechanical circulatory support and cardiac transplantation.

As a professor of medicine at the UC San Diego School of Medicine, Dr. Adler conducts research on the use of stem cells to treat cardiovascular disease. He is also an investigator for many clinical trials for all stages of heart failure.

Dr. Adler completed both his internship and residency at the University of Washington, after he earned his medical degree at Boston University. He completed his fellowship in cardiology at Mount Sinai School of Medicine in New York and received additional training in advanced heart failure at Columbia University. Dr. Adler is board-certified in cardiovascular disease and advanced heart failure.

Dr. Adler's work has been featured in the world's top journals, including Nature, Journal of the American Medical Association (JAMA) and Circulation. He speaks throughout the country on topics related to heart failure and stem cell biology.
Center
Press