Fred Gage
Adjunct Professor, Neurosciences, UC San Diego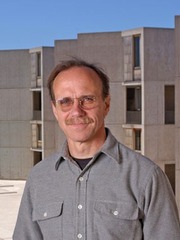 9500 Gilman Dr
La Jolla , California 92093
Bio

Fred H. Gage, Ph.D., a Professor in the Laboratory of Genetics, joined The Salk Institute in 1995. He received his Ph.D. in 1976 from The Johns Hopkins University. Dr. Gage's work concentrates on the adult central nervous system and unexpected plasticity and adaptability to environmental stimulation that remains throughout the life of all mammals. In addition, he models human neurological and psychiatric disease in vitro using human stem cells. Finally his lab studies the genomic mosaicism that exists in the brain as a result of mobile elements that are active during neurogenesis.

Prior to joining Salk, Dr. Gage was a Professor of Neuroscience at the University of California, San Diego. He is a Fellow of the American Association for the Advancement of Science, a Member of the National Academy of Sciences and the Institute of Medicine, and American Philosophical Society, a foreign member of the European Molecular Biology Organization and a Member of the American Academy of Arts and Sciences.

Dr. Gage has served as President of the Society for Neuroscience in 2002, and past President for the International Society for Stem Cell Research 2012.