Guennadi V Glinskii
Research Scientist, Institute of Engineering In Medicine, UC San Diego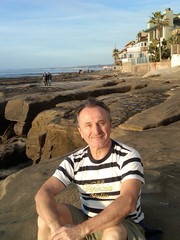 9500 Gilman Dr
La Jolla , California 92093
Bio

Dr. Gennadi V. Glinsky, M.D., Ph.D., (aka Guennadi V. Glinskii) joined the UCSD faculty at the Institute for Engineering in Medicine to contribute his expertise in the areas of personalized genomics-guided prevention and therapy of common human disorders. The primary focus of his research at the Center of Nanomedicine and Engineering will be in the new field of RNA-guided diagnostics and therapeutics for next-generation individualized nanomedicine (http://www.jci.org/articles/view/69268 ). Primary disease areas will be the addictive behavior, therapy-resistant prostate and breast cancers, neurodegenerative disorders. Primary new technology development projects will be in the fields of a single cell level analyses of cell population genomics-defined regulatory loci and networks in normal and diseased human cells.

Dr. Glinsky was a consultant for the National Institutes of Health and serves on the various Review Panels of the National Institutes of Health and the National Cancer Institute Review Panels. He serves as a reviewer on Review Panels for Israeli Science Foundation, Israel; Canada Foundation for Innovation (CFI), Canada; Health Research Board (HRB), Ireland; Medical Research Council (MRC), United Kingdom; Swiss National Science Foundation, (SNF), Switzerland; Cancer Research UK, London, United Kingdom; Associazione Italiana per la Ricerca sul Cancro (AICR), Italy.

Dr. Glinsky was a Consulting Professor at the Stanford University School of Medicine, (Stanford CA) from 2012 to 2015. He is a Member, The Rockefeller University Adjunct Faculty, in the Laboratory of Immune Cell Epigenetics & Signaling (New York, NY). He is an Adjunct Professor at the Department of Surgery, Division of Urology, Albany Medical College, in Albany, NY, Adjunct Professor at the Department of Pathology & Laboratory Medicine, Albany Medical College, in Albany, NY. Dr. Glinsky was a Visiting Researcher at the Sanford-Burnham Medical Research Institute, in La Jolla, CA, from 2011 to 2014.

Dr. Glinsky serves as a reviewer for numerous journals including The New England Journal of Medicine, Lancet, Nature Medicine, Journal of Clinical Investigation, Cancer Research, American Journal of Pathology, Clinical Cancer Research, Proceedings of the National Academy of Science (PNAS), Oncogene.

Dr. Glinsky has over 30 years of experience in conducting cancer research applying his unique set of expertise in clinically relevant animal models of cancer metastasis, molecular biology, molecular imaging, and oncogenomics. Dr. Glinsky and colleagues have made observations with groundbreaking potentials in the rapidly evolving area of genomics of common human diseases highlighting important functional role of intergenic non-protein-coding regions in pathogenesis of human disorders. Laboratory experiments and computational analyses conducted in Dr. Glinsky's laboratory facilitated isolation, sequencing, and functional characterization of small non-coding trans-regulatory RNAs (transRNAs) containing intergenic disease-associated SNPs (snpRNAs) and inducing allele-specific clinically-relevant phenotypic changes in human cells. These observations contributed to the emergence of a new paradigm challenging the dominant position of the protein-centric dogma in our understanding of and experimental approaches to genetic and molecular analyses of physiology and pathology of H. sapiens.

During his tenure at the Sidney Kimmel Cancer Center (1998-2005), Dr. Glinsky's laboratory has made a major contribution to the invention, development, and practical implementation of the concept and principles of the "signature approach" to genome-wide microarray gene expression analysis. His work in the mouse/human cross-species translational genomics field has made a major impact on discovery of the genetic link between the "stemness" phenotype and therapy-resistance clinical behavior of human cancer. He invented the gene expression-based cancer therapy outcome predictor (CTOP) algorithm and carry-out the retrospective clinical validation of the multi-signature CTOP algorithm for four distinct types of epithelial tumors, including breast, prostate, lung, and ovarian cancers. Dr. Glinsky's lab was at the origin of discoveries of the links between metastatic behavior and apoptosis-resistance phenotypes, telomerase- and telomere-length-dependent mechanisms of resistance to apoptosis, isolation and genomic analysis of blood-borne human prostate carcinoma metastasis precursor cells, and mechanism- and structure-guided anti-metastatic drug design and pre-clinical evaluation. Dr. Glinsky is one of the originators of the concept of anti-adhesion cancer therapy and is a leading specialist in the field of anti-adhesion therapy of metastatic disease. During his tenure at the Academy of Science of Ukraine (1983-1990) and career transition to the United States (1990-1998), Dr. Glinsky's lab has made a major contributor to the discovery and preclinical development of low molecular weight family of therapeutic compounds named antimetastatic synthetic glycoamines.

Dr. Glinsky earned a doctor of medicine in internal medicine. He later received his doctorate in experimental oncology from the Institute of Oncology Problems Academy of Sciences of Ukraine in Kiev, Ukraine. He completed his post-doctoral training and early-stage scientific career as Senior Scientist, Group Leader, and Program Director in the Institute of Oncology Problems Academy of Sciences of Ukraine in Kiev, Ukraine (1982-1991).