Irwin Jacobs
Advisory Committee Member, Institute of Engineering In Medicine, UC San Diego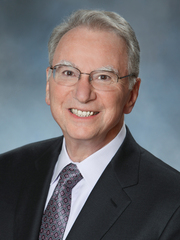 9500 Gilman Dr
La Jolla , California 92093
Bio

Irwin Mark Jacobs is Founding Chairman and CEO Emeritus of Qualcomm, a company he co-founded in 1985. As CEO through 2005 and Chairman through 2009, he led the growth from startup to Fortune 500 Company, now with over 30,000 employees worldwide. Qualcomm pioneered the CDMA wireless technology used by all third-generation cellular networks to deliver broadband Internet access to over 2.2 billion customers, and is the leader in supplying fourth-generation technology. Through continuing innovation, Qualcomm has become the world's largest semiconductor supplier for mobile devices. For 15 consecutive years, QUALCOMM has been named to Fortune's list of The 100 Best Companies To Work For.

Dr. Jacobs previously served as co-founder, CEO and chairman of LINKABIT Corporation, leading the development of Very Small Aperture Earth Terminals (VSATs) and the VideoCipher® satellite-to-home TV system. LINKABIT merged with M/A-COM in August 1980, and Dr. Jacobs served as executive vice president and a member of the board of directors until his resignation in April 1985. Over 100 San Diego communications companies trace their roots to LINKABIT.

From 1959 to 1966, Dr. Jacobs was an assistant, then associate professor of electrical engineering at Massachusetts Institute of Technology (MIT). From 1966 to 1972 he served as professor of computer science and engineering at the University of California, San Diego (UCSD). While at MIT, Dr. Jacobs co-authored with Jack Wozencraft a textbook on digital communications, Principles of Communication Engineering. First published in 1965, the book remains in use today.

Dr. Jacobs received a bachelor's degree in electrical engineering in 1956 from Cornell University and Master of Science and Doctor of Science degrees in electrical engineering from MIT in 1957 and 1959, respectively. He holds fourteen CDMA patents.

Dr. Jacobs has chaired the Board of Trustees of the Salk Institute since 2006, was chair of the National Academy of Engineering from 2008 to 2012, has served on the advisory board of the Tsinghua University School of Economics and Management since 1999, and currently serves on the Cornell NYC Tech steering committee, the King Abdulaziz City for Science and Technology (KACST) Innovation and Entrepreneurship Board of Advisors, and the Suu Foundation Board of Directors (Myanmar).

He has been awarded seven Honorary Doctorates, including Technion and Tel Aviv University, and is the recipient of numerous industry, education and business awards, including:
Fellow of IEEE, 1974
National Academy of Engineering, 1982
The National Medal of Technology Award, the highest award bestowed by the president of the United States, for extraordinary achievements in the commercialization of technology, 1994
The IEEE Alexander Graham Bell Medal, 1995
The American Electronics Association (AEA) Medal of Achievement Award, 1998
Radio Communication Report (RCR) Wireless Hall of Fame, March 2000
Fellow, American Academy of Arts and Sciences, 2001
Bower Award in Business Leadership, the Franklin Institute, 2001
The Economist Innovation Award, 2002
Dr. Morris Chang Exemplary Leadership Award, The Fabless Semiconductor Association (FSA), 2003
Dorothy I. Height Chair's Award, Leadership Council on Civil Rights, 2004
Honorary Professorship, Beijing University of Posts & Telecom (BUPT), 2005
Lifetime Achievement Award (for 25 years in telecommunications), Financial Times, 2005
IEEE/ Royal Society of Edinburgh Wolfson James Clerk Maxwell Award with Andrew Viterbi, 2007
Robert N. Noyce Award, Semiconductor Industry Association, 2007
IEEE VTC Inaugural Hall of Fame Award, 2009
Consumer Electronics Hall of Fame, 2009
Fellow, American Association for the Advancement of Science (AAAS), 2010
Lifetime Achievement Award, EE Times, 2011
Ernst & Young Lifetime Achievement Award, 2011
Marconi Society Fellowship & Prize, 2011
U.S. News STEM Leadership Hall of Fame Award, 2013
IEEE Medal of Honor, 2013
USPTO National Inventors Hall of Fame, 2013
Distinguished Technion Medal, 2013
American Philosophical Society, 2013
Honorary Distinguished Chair Professor, National Tsing Hua University, 2013
He and his wife Joan support the Jacobs Technion-Cornell Innovation Institute and have been cited by Business Week and Chronicle of Philanthropy among the 50 Most-Generous Philanthropists in the United States.