Jason Sicklick
Professor of Surgery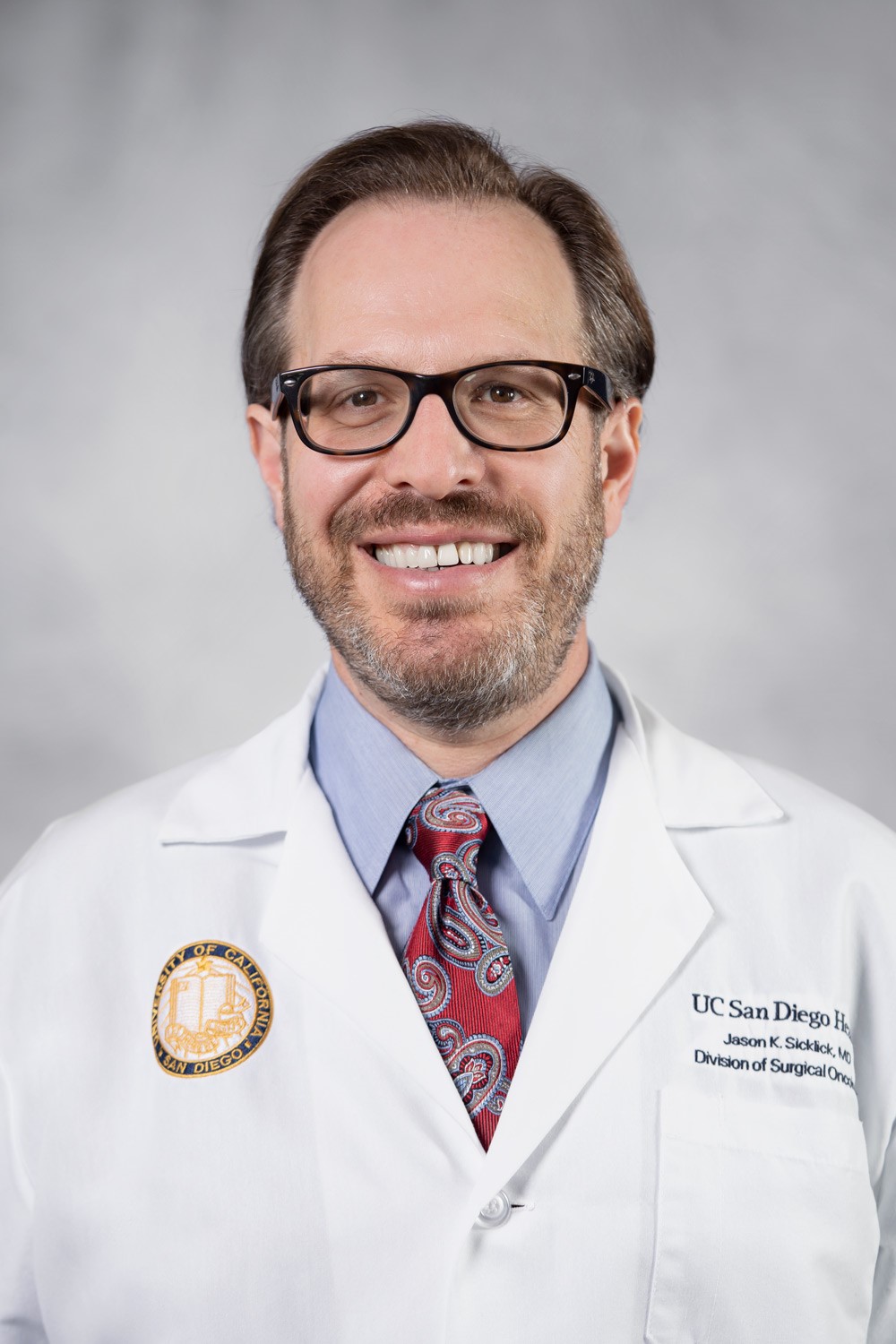 3855 Health Sciences Drive
Room 4311
La Jolla , California 92093
Profile

JASON K. SICKLICK, MD, FACS

Dr. Jason Sicklick is an NIH and FDA R01 funded investigator, Professor of Surgery and  Adjunct Professor of Pharmacology, Executive Vice Chair of Research in the Department  of Surgery, Associate Program Director of the General Surgery Residency at UC San  Diego, and Co-Leader of the Sarcoma Disease Team at the UC San Diego Moores  Cancer Center. He is a board-certified general surgeon and surgical oncologist  specializing in the treatment of complex retroperitoneal and abdominal sarcomas,  including gastrointestinal stromal tumors (GIST), as well as hepatobiliary oncology. He  previously served as the Deputy Director of the UC San Diego Moores Cancer Center's  Biorepository and Tissue Technology Shared Resource.  

In 2016, Dr. Sicklick was named the GIST Clinician of the Year by the Life Raft GIST  Support Group, the largest GIST patient advocacy group in the world. In 2018, Dr. Sicklick was selected as a  James IV Association of Surgeons fellow. This highly prestigious international traveling fellowship is designed to  promote communication and collaboration in the international surgical community. In 2018 he also received the  RARE Champion of Hope in Medical Care & Treatment Award from the Global Genes-Allies in Rare Disease,  the largest global non-profit advocacy organization for individuals and families fighting rare and genetic diseases.  In addition, he received the 2019 Excellence in Mentoring Award from the UC San Diego Health Systems  International. In 2021, he received the Rare Impact Award from the National Organization for Rare Disorders  (NORD®), as well as the UC San Diego Foundation's 2021 Excellence in Stewardship Award (campus-wide  award).  

He received his medical degree from the UCLA School of Medicine, completed his general surgery residency at  The Johns Hopkins Hospital where he was the Administrative Chief Resident, and completed a fellowship in  surgical oncology at Memorial Sloan Kettering Cancer Center where he was the Chief Administrative Fellow. He  joined the UC San Diego Division of Surgical Oncology at Moores Cancer Center in 2010.  

Dr. Sicklick is currently an active member of the National Comprehensive Cancer Network (NCCN) Soft Tissue  Sarcoma Committee and GIST Subcommittee and the Trans-Atlantic Australasian Retroperitoneal Sarcoma  Working Group (TARPSWG). He also serves on the medical advisory boards of Global Genes and The Life Raft  Group, as well as co-chairs Study Section Panel B (Translational) of the Israel Cancer Research Fund (ICRF)  and serves on their International Scientific Council. Most recently, he initiated and chairs the monthly TARPSWG  International Tumor Board to convene retroperitoneal sarcoma experts (surgical oncologist, medical oncologists,  radiation oncologists, orthopedic oncologists) from around the world to discuss cases focused on retroperitoneal  sarcomas.  

Dr. Sicklick is currently on the Editorial Board of Journal of Gastrointestinal Surgery, as well as previously served  for Annals of Surgical Oncology and Journal of Surgical Research. He has published in prestigious journals such  as Nature Medicine, Clinical Cancer Research, Oncogene, Lancet Oncology, JAMA Surgery, Annals of Surgery,  Archives of Surgery, and Annals of Surgical Oncology, as well as coauthored publications in Nature,  Gastroenterology, and Cancer Research.  

He is an active member of the numerous societies including the Surgical Biology Club II (SBC2), Society of  Clinical Surgery (SCS), Halsted Society, Society for University Surgeons (SUS), Society of Surgical Oncology  (SSO), American Society of Clinical Oncology (ASCO), American Association for Cancer Research (AACR),  Connective Tissue Oncology Society (CTOS), American College of Surgeons (ACS), and Society for Surgery of  the Alimentary Tract (SSAT).  

Dr. Sicklick has been featured in many lay press articles, including stories in ABC News, National Geographic,  the Los Angeles Times, and the San Diego Union Tribune. His translational and clinical research focus on  molecular mechanisms of GIST, as well as precision medicine approaches to cancer therapy for advanced  cancers.