Jeannie Huang, MD, MPH
Associate Professor, Pediatrics, UC San Diego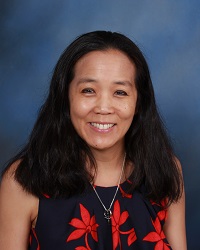 9500 Gilman Dr
La Jolla , California 92093
Profile

Dr. Jeannie Huang is the medical director of the Inflammatory Bowel Disease Center at Rady Children's Hospital-San Diego and a professor of pediatrics at UC San Diego School of Medicine. She is also the director of clinical medical education at Rady Children's and the assistant dean of continuing medical education at UC San Diego. She is active in many aspects of medicine, including medical education, clinical medicine and clinical research.

In her role at the Inflammatory Bowel Disease Center, Dr. Huang collaborates with both local and national institutions to provide and standardize best practices and quality care for this special group of patients. In collaboration with the North American Society for Pediatric Gastroenterology, Hepatology and Nutrition, she helped create the Doc4me app (www.doc4me-app.com), which lists physicians who can provide adult IBD care and provides links to needed resources for adolescents and young adults who need to transfer care to an adult center when they are ready.

Dr. Huang also diligently serves as the lead of the Transition Task Force at Rady Children's to ensure that all youth with chronic diseases are provided with the necessary skills and knowledge to have a successful transition to adult-centered care and to become strong health advocates for themselves.

Dr. Huang received her medical training at The Johns Hopkins School of Medicine before completing her pediatric residency at Children's Hospital Los Angeles and her pediatric gastroenterology fellowship at Children's Hospital Boston and Massachusetts General Hospital for Children. She earned a Master of Public Health at the Harvard School of Public Health. She joined UC San Diego and Rady Children's in 2002. Her clinical practice includes treating all gastrointestinal, hepatic, pancreatic and nutritional disorders affecting children.

Dr. Huang's research focuses on how the health of individuals, communities and populations can be improved through the creative use of wireless and networked technologies and ubiquitous computing. Her research focuses in particular on youth suffering from chronic diseases. She developed a SMS and web-based intervention designed to increase health-related self-efficacy and healthcare engagement among adolescents with chronic disease. This intervention was tested in a randomized, controlled trial, which demonstrated significant improvements in healthcare communications, disease self-management and health-related self-efficacy in intervention recipients. She is also a strong advocate for healthy nutrition in children and has been involved in several technology-based interventions in pediatric obesity, which target both obese youth with a prior history of cancer and otherwise healthy obese youth and adolescents. Dr. Huang also currently leads a NIH-funded project evaluating computer vision and wearable sensor technology for assessing pain in children. She is also a co-investigator on two NSF-funded projects enabling the use of health sensor and multisource data to monitor and improve health. Dr. Huang currently receives funding from the National Institutes of Health, the National Science Foundation and the American Cancer Society for her work.