Krishnan V. Chakravarthy
Assistant Clinical Professor, Anesthesiology and Pain Medicine, UC San Diego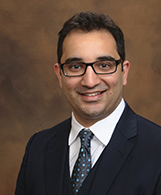 9300 Campus Point Drive #7651
La Jolla , California 92037
Profile

Krishnan Chakravarthy, MD, PhD is an assistant clinical professor who specializes in multi-modal pain management. As a pain management specialist, he evaluates, diagnoses and treats all forms of pain. 

Dr. Chakravarthy completed sub-specialty fellowship training in pain management at Massachusetts General Hospital/Harvard Medical School and residency training in anesthesiology at The Johns Hopkins Hospital in Baltimore, MD. He interned in general medicine at Griffin Hospital (Yale Affiliate) in Derby, Connecticut. He earned his M.D., Ph.D. degrees at Jacobs School of Medicine and Biomedical Sciences in Buffalo, NY. 

Dr. Chakravarthy's research interests in pain medicine include incorporating new technology into advancing pain care. He is currently focusing on using nanotechnology as an novel system to develop new drug delivery and point of care device platforms to manage chronic pain. Dr. Chakravarthy's research interests also focus on the effect of anesthetics on host immunity. Prior to joining UCSD he has served as a contractor at the U.S. Centers for Disease Control and Prevention (CDC) where he researched host immunity to influenza virus as a way of developing novel therapeutic and vaccine strategies. His research work has been published in top journals including Anesthesiology, Proceedings of the National Academy of Sciences, and Pain Medicine. His research work has been also featured in Times of India, International Business Times, Futurity, NewsMedical and other national and international venues. 

He is also a founder of several biotechnology startup companies in the nanotechnology space, and new drug development focusing on commercializing paradigm-shifting technology in the field of infectious diseases, and chronic pain. He is an active entrepreneur and believes industry plays a critical role in seeing translational science make it to patients. 

Dr. Chakravarthy currently serves on the editorial board of several national and international peer reviewed journals, and committees on organizations such as the International Neuromodulation Society.