Lawrence S.B. Goldstein
Distinguished Professor, Cellular And Molecular Medicine, UC San Diego Distinguished Professor, Neurosciences, UC San Diego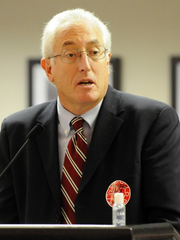 9500 Gilman Dr
La Jolla , California 92093
Bio

Dr. Goldstein is Distinguished Professor in the Department of Cellular and Molecular Medicine and the Department of Neurosciences at the University of California, San Diego (UCSD), School of Medicine, as well as Director of the UC San Diego Stem Cell Program, Scientific Director of the Sanford Consortium for Regenerative Medicine, and Director of the Sanford Stem Cell Clinical Center. He received his B.A. degree in biology and genetics from UCSD in 1976 and his Ph.D. degree in genetics from the University of Washington, Seattle in 1980. Dr. Goldstein did postdoctoral research at the University of Colorado at Boulder from 1980 to 1983 and at the Massachusetts Institute of Technology from 1983 to 1984. He was assistant, associate, and full professor at Harvard University in the Department of Cellular and Developmental Biology from 1984 to 1993. Dr. Goldstein then moved to UCSD as Professor of Pharmacology from 1993-2000, Investigator with the Howard Hughes Medical Institute from 1993-2012, Professor and then Distinguished Professor of Cellular and Molecular Medicine from 1999-present, and Distinguished Professor of Neurosciences from 2011-present. He has served as Director of the UCSD Stem Cell Program since 2006, Scientific Director of the Sanford Consortium for Regenerative Medicine since 2012, and Director of the Sanford Stem Cell Clinical Center beginning in 2013. His awards include a Senior Scholar Award from the Ellison Medical Foundation, an American Cancer Society Faculty Research Award, the Loeb Chair in Natural Sciences when he was at Harvard University, election to the American Academy of Arts and Sciences, and the 2009 Public Service Award from the American Society for Cell Biology.

Dr. Goldstein's work is supported by funding from the National Institutes of Health (NIH), the California Institute for Regenerative Medicine, and the Ara Parseghian Medical Research Foundation. His research is focused on understanding the molecular mechanisms of movement inside brain cells and how failures in the movement systems may lead to neurodegenerative diseases. His laboratory has discovered important links between transport processes and diseases such as Alzheimer's and Huntington's diseases. He is now focused on using human stem cells to understand and treat Alzheimer's Disease, Niemann-Pick Type C, and ALS.

Dr. Goldstein has had an active role in national science policy, having served on many public scientific advisory committees, in addition to serving as an expert commentator on the issue of stem cell research and biomedical research policy by print and broadcast media. He has testified on a number of occasions in the U.S. House of Representatives and the Senate about NIH funding and stem cell research. Dr. Goldstein also served as co-chair of the scientific advisory committee to the campaign for the Proposition 71 stem cell research initiative, which authorizes $3 billion in tax-free state bonds to fund stem cell research in California over 10 years.  As a co-founder and consultant of the biotechnology company Cytokinetics, he has also had an active role in private industry where he has gained experience in translating scientific insights to new therapeutic approaches. Public understanding will be considerably improved with his recent well received book, "Stem Cells for Dummies".