Quyen T Nguyen M.D; Ph.D.
Associate Professor, Surgery, UC San Diego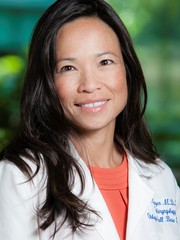 9500 Gilman Dr
La Jolla , California 92093
Bio

I am currently an Associate Professor in the Department of Surgery. I am board certified in both Head and Neck Surgery and Neurotology/Skull Base Surgery. I am the Director of the Facial Nerve Clinic at UCSD.

My basic science research focuses on the development of biological markers to improve early cancer diagnosis and treatment. I am working on the development of Fluorescent Guided Surgery (FGS) with Live Molecular Navigation (LMN), also known as "color-coded surgery". I am Co-Director of the Cancer Imaging Program (CIP) at the Moores Cancer Center. I was selected to be the NIH recipient of the Presidential Early Career Award for Scientists and Engineers (PECASE, awarded April 15, 2014).