Scott M. Lippman
Director, Moores Cancer Center, UC San Diego Professor, Medicine, UC San Diego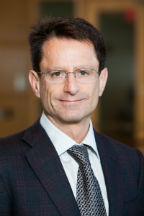 9500 Gilman Dr
La Jolla , California 92093
Bio

Scott M. Lippman, MD, joined Moores Cancer Center in May 2012. He is a professor of medicine at UC San Diego and holds the Chugai Pharmaceutical Chair in Cancer. Previously, he was chair of Thoracic/Head and Neck Medical Oncology at The University of Texas (UT) MD Anderson Cancer Center. Lippman brings more than 25 years of experience as principal investigator of translational research involving investigator-initiated clinical trials. He has participated in the national leadership of clinical/translational research planning and development within the NCI Cooperative Group setting and currently sits on the National Institutes of Health (NIH) Clinical Trials/Translational Research Advisory Committee. He has served on several cancer center external advisory boards and major-trial steering committees, and has played a leadership role in major AACR and American Society of Clinical Oncology (ASCO) committees and programs.

Lippman graduated from Johns Hopkins University School of Medicine, did his internship and residency training at Johns Hopkins Hospital and Harbor-UCLA Medical Center, and had hematology/medical oncology training at Stanford University and the University of Arizona. He is triple board-certified in internal medicine, hematology and medical oncology.

In addition to extensive research and academic administrative responsibilities, Lippman maintains an active clinical practice. As a clinician, he is well-respected by his peers, with recognition in every major "Top Doctor" listing including recently in the U.S. News Top Doctors.

Author of more than 300 publications in high-impact journals, including The New England Journal of Medicine, JAMA, PNAS, and The Lancet, and chapters in major medical textbooks, Lippman has received many awards, among them the ASCO-American Cancer Society Award, AACR Cancer Research and Prevention Foundation Award, and the ASCO Statesman Award, and he is an elected member of the prestigious Association of American Physicians.