Sonia Ramamoorthy
Clinical Professor, Surgery, UC San Diego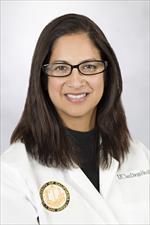 9500 Gilman Dr
La Jolla , California 92093
Profile

Dr. Sonia Ramamoorthy is a surgeon who specializes in surgery of the colon and rectum. She cares for patients who have cancer of the colon, rectum, and anus, as well as benign conditions such as diverticulitis and inflammatory bowel disease. She also specializes in treating pelvic floor disorders and fecal incontinence. She is certified by both the American Board of Surgery and the American Board of Colon and Rectal Surgery.

Dr. Ramamoorthy performs open and minimally invasive colorectal surgeries as well as all standard general surgery procedures. She has advanced training in colon and rectal surgery and has special certification in minimally invasive surgical techniques to treat cancers as well as other conditions in the colon, rectum, and anus. Dr. Ramamoorthy's surgeries for benign conditions include laparoscopic colectomy for benign polyps, diverticular disease, inflammatory bowel disease, constipation, and prolapse.

Dr. Ramamoorthy is active in the surgical community as an instructor who trains other surgeons to perform laparoscopic colorectal surgery.

Dr. Ramamoorthy's research interests include colorectal and anal cancer, Crohn's disease and ulcerative colitis, and pelvic floor disorders. Here at UC San Diego, Dr. Ramamoorthy is part of the Translational Oncology Program at the Moores UC San Diego Cancer Center, where her ongoing research focuses on developing techniques for determining a patient's risk of cancer recurrence after surgery for early rectal cancer.

Dr. Ramamoorthy's current research projects also include a study of the role of microsatellite instability (MIS) in squamous cell cancer of the anus. Squamous cell cancer of the anus is becoming more common in the United States, particularly in individuals who are immunocompromised and those who are HIV/HPV-positive. Her research is supported by a grant from the American Cancer Society.