Stephen Howell
Distinguished Professor of Medicine, Moores Cancer Center, UC San Diego Professor, Medicine, UC San Diego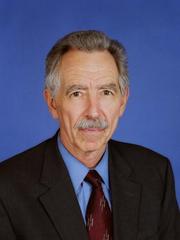 9500 Gilman Dr
La Jolla , California 92093
Bio

I am a physician scientist trained as a medical oncologist and pharmacologist who runs a research program that conducts both clinical and laboratory-based cancer research studies. It is the overall aim of this research to improve the effectiveness of the treatment of cancer through the identification of strategies for preventing, overcoming, or reversing resistance to chemotherapeutic agents.

My group has expertise in the following areas: molecular, biochemical and clinical pharmacology; pre-clinical drug development; and, the design and conduct of clinical trials. Current laboratory-based studies are focused on identifying signal transduction pathways that are activated as part of the cellular injury response, investigating the role of DNA mismatch repair as a determinant of drug sensitivity, and cloning and characterizing genes that code for drug resistance.

Current clinical studies are testing novel strategies for delivery increased amounts of drug to tumors, and molecularly assessing their effectiveness. My group participates in drug and drug delivery technology development with several pharmaceutical companies.
Center