Sunil Advani
Associate Professor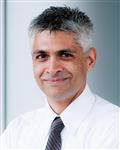 (858) 822-5568
3855 Health Sciences Drive #0843
La Jolla , California 92093
Bio

Raised in Miami, Florida, Dr. Advani graduated from the University of Chicago in 1992 with a BS in Biological Chemistry and then received his MD from the University of Chicago's Pritzker School of Medicine in 1999. Following graduation from medical school, he did a post-doctoral fellowship working on combining gene therapy with radiotherapy. He then completed his medical training by doing a surgical internship at Oregon Health and Sciences University in Portland followed by a return to Chicago for his residency in Radiation Oncology at the University of Chicago where he was named Chief Resident. 

Dr. Advani was recruited to UC San Diego to serve as Director of Radiobiology and Biotechnologies. His research interests are focused on combining gene therapy with radiation therapy as well as the development of novel radiosensitizers to improve the efficacy of radiotherapy. He is co-investigator of NIH/NCI funded research, and his laboratory research has served as the basis for a recently opened Phase I clinical trial at UC San Diego Moores Cancer Center. 

Dr. Advani sees patients with prostate cancer and other malignancies at the UC San Diego South Bay Radiation Oncology Treatment Center in Chula Vista.