Thomas Moore
Chair, Reproductive Medicine, UC San Diego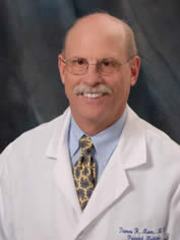 9500 Gilman Dr
La Jolla , California 92093
Bio

Dr. Moore obtained his M.D. (Cum Laude) from Yale University in 1979, went on to an Obstetrics and Gynecology Residency at Naval Medical Center, San Diego, from 1979 to 1983, and completed Maternal-Fetal Medicine Fellowship at UCSD in 1985.

Dr. Moore returned to UCSD in 1988 as faculty and Director of the Division of Perinatal Medicine. He has been Chairman of the Department of Reproductive Medicine since 1996. Prior university activities include the formation and chairmanship of the Primary Care Executive Committee, which consisted of primary care clinicians and Chairs charged with formation of a Medical Group Primary Care Service and creation of its business plan, organizational structure and governance system; appointment to the School of Medicine Educational Liaison Committee for Medical Education; membership on the search committees for Physician-in-Chief, Vice-Chancellor for Health Sciences, and Chief of Ambulatory Operations, and chairmanship of the search committees for the Department of Surgery Chair and Chief Operations Officer.

Dr. Moore's current appointments include Chairmanship of the Professional Standards Committee, which oversees professional activity of UCSD Medical Group; Special Advisor to the Chief Executive Officer by appointment of the Dean; member and Vice-Chair of UCSD Board of Governors and UCSD Board of Governors Executive Council; and membership in the UCSD Academy of Clinician Scholars.

Dr. Moore is and has been Principal Investigator on numerous grants/research awards including those from National Institutes for Health, the National Diabetes Association, United States Public Health Services and the State of California. He is currently Principal Investigator on the prestigious NIH Center Grant for Women's Reproductive Health Career Development.

Dr. Moore is currently a member of the Division of Maternal-Fetal Medicine Oversight Committee of the American Board of Obstetrics and Gynecology, Treasurer of the American Association of Obstetrics and Gynecology Foundation, and sits on the Editorial Board of the American Journal of Obstetrics and Gynecology. He has previously been a member of the Board of Directors of the Society for Maternal-Fetal Medicine, a Council Member of the Perinatal Research Society, and a Council Member for the California Medical Association's Council of Scientific Affairs. He has been both a member of and chaired review committees for departments of Obstetrics and Gynecology including those at Harvard, UCLA, and University of Arizona. He is frequently asked to serve as Oral Plenary Session Judge and meeting session Moderator at the Society for Maternal-Fetal Medicine Annual Meeting.

Dr. Moore's research interests include clinical quantitation and assessment of amniotic fluid volume, regulation of amniotic fluid volume, the contribution of fetal urinary function and maternal vascular tonicity to amniotic fluid volume.

Dr. Moore's clinical activities encompass all aspects of Maternal-Fetal Medicine, especially including fetal movement, diabetes and pregnancy, amniotic fluid volume, and fetal diagnosis.