Wendy Campana
Professor, Anesthesiology, UC San Diego School of Medicine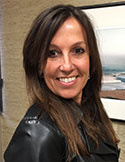 9500 Gilman Dr
La Jolla , California 92093
Profile

Wendy Campana is Co-Director of CRG-STEMM. She obtained her B.S. at the University of California, Berkeley in 1989 and her Ph.D. at The Pennsylvania State University in 1994. She was a NIH Postdoctoral Training Fellow at the University of California, San Diego, conducting research in the Department of Neurosciences from 1994-2000. In 2000, she joined the Faculty of the Department of Anesthesiology, where she is currently a Professor (ladder rank) of Anesthesiology and a member of the Program in Neurosciences. Dr. Campana's work focuses on cellular and molecular mechanisms of peripheral nerve injury and how injury is associated with chronic neuropathic pain. Dr. Campana has served as a Principal Investigator on several NIH R01 grants. She has authored over 55 papers in the area of neurobiology, many of which are in high impact journals such as the Journal of Clinical Investigation, Journal of Biological Chemistry, Lancet and the Journal of Neuroscience. Her work has received attention in the lay press including appearances in Science Daily, News Blaze, Physorg, BioSpace, News-Medical.Ne, Medical News Today (in the UK) and UCSD news. She also has 2 patents, is a member of several Scientific Advisory Boards (Halozyme, Gordon Research Conference Workshops) and has served as a chartered member of the NINDS/NIH Translational Neurobiology Study Section.

Dr. Campana contributes to the education mission of the Department of Anesthesiology by teaching annually in a summer pain didactic, which also serves as a graduate school course (NEU265). This program is attended by Anesthesiology residents, pain fellows and Neuro- sciences Graduate Students. As a member of the Neurosciences Graduate Program, Dr. Campana established, organizes and directs an elective course in pain neurobiology (NEU221). Dr. Campana served as the UCSD CME Director for the Peripheral Nerve Society (2011). She contributes extensively to service to the department and the Institution as a whole. She has been a continuous member of the departmental residency selection committee for the past 7 years. In this capacity, Dr. Campana helps highlight to candidates the traditionally strong academic orientation of the Anesthesiology Department. Dr. Campana also serves as a member of the Anesthesiology Committee on Academic Promotion.

In 2012, Dr. Campana received an AAMC Women's Mid-Career Development Award and subsequently co-founded the Society for Advancement of Women in Anesthesiology (SA W A). SA W A (which includes over 25 female residents, postdocs and faculty members) meets tri-annually and Dr. Campana has given many talks on mentoring, sponsoring, and academic promotion. In addition, Dr. Campana co-founded the newly established Women in Health Sciences (WHS) Committee that was designed to improve communication between women across departments and share plans of setting up local women's groups within departments. This committee now spans 13 departments within the medical school and has 26 official members. The committee is supported by the Dean's Office, and the School of Medicine. The most recent meeting was highlighted by a lecture entitled: "Mentors are good; Sponsors are better."

Dr. Campana's awards include National Leadership in Academic Medicine Award, the Volvo Foundation Research Prize, AAMC Mid-career Development Award, EuroSpine Basic Science Poster Prize and the American Heart Association Service Award.