The Institute of Engineering in Medicine
Facilitates the integration of engineering principles and novel technologies with biomedical and translational research.
Works with departments to create programs in which student scientists can apply engineering and technology to healthcare.
Comprises fifteen Centers and 

over 200 faculty from UCSD's Schools of Medicine, Skaggs School of Pharmacy & Pharmaceutical Sciences, and Jacobs School of Engineering.
Congratulations, the Class of 2023 Siebel Scholars
Erick Armingol, Jervaughn Hunter, Esther Lim, Jonathan Pekar, and Yue Qin have been honored as 2023 Siebel Scholars.
Congratulations and thank you for your hard work.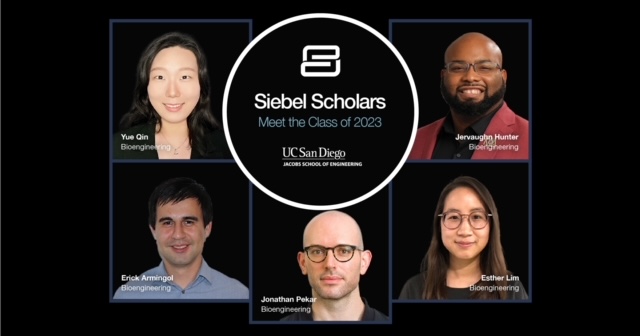 Remembering Dr. Berns
In Memoriam, Dr. Michael Berns
1942-2022
Biophotonics Pioneer
Institute of Engineering in Medicine-Biophotonics Technology Center Director
Diversity, Equity and Inclusion