Give
The Institute of Engineering in Medicine (IEM) at UC San Diego was formed in 2008 to unite outstanding faculty in engineering, medicine, pharmacy and other departments. Interdisciplinary professionals strive to expedite new discoveries, promote research, and foster industrial partnerships to advance our understanding, prevention, diagnosis and treatment of cancer and cardiovascular, metabolic, neurological, ophthalmological, and orthopedic injuries and diseases.
Looking for reasons to donate? View the The Campaign for UC San Diego's brochure for the Institute of Engineering in Medicine here.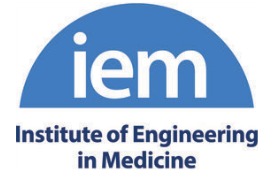 Donate
If you are ready to make a difference and impact the future of health care, consider a gift to the Institute of Engineering in Medicine at UC San Diego.
In partnership with the Altman Clinical Translational Research Institute (ACTRI) and the Institute for the Global Entrepreneur (IGE), the GEM program enables clinical and engineering talent at UC San Diego to synthesize knowledge and identify pressing healthcare challenges with engineering solutions that can be implemented rapidly. Divided into two phases, innovation seed grants and longer-term support for clinical translation provide continuity from concept to clinic.
Supports new partnerships between engineering students, clinicians and the community to find new solutions for the public health and clinical needs of underserved patients and communities. GEMSTONES awards funding to teams of engineering students working with clinicians and community groups to apply AI, data sciences, communications and mobile apps to develop novel solutions that seek to reduce healthcare disparities or that take advantage of clinical data sets on unique or underserved local populations.
GEMINI focuses on diverse early career scientists on their journey to leadership in health and technological innovation, especially those less likely to benefit from the informal resources and networks that can be a significant factor in individual success.
With GEMINI, we will support diverse early career faculty and research scientists, post-doctoral and pre-doctoral trainees who conduct research, outreach or advocacy to enhance diversity, access and inclusion at the intersections of engineering and medicine, including community-enhancing events celebrating diversity, mentoring of underserved students for educational and career, and support for career development.
Gifts to the IEM Seed Fund will provide the critical, time-sensitive funding needed to jump-start the programs across disease pipelines. Gifts to the fund will accelerate the strategic activities planned within each of the IEM Centers including innovations in research and design that will lead to novel discovery and translations.
Whitaker Center for Biomedical Engineering (WCBE)
Donate to the Whitaker Center for Biomedical Engineering. The IEM Whitaker Center for Biomedical Engineering (WCBE) was established to foster and enhance interactions between IEM, the UC San Diego Bioengineering Department, and Industry. WCBE's guiding principle is enriching the education and training of students for greater success in their future careers. To donate, please click here and search for fund 1469 - Whitaker Center for Biomedical Engineering Industry Advisory Board. 
Gifts of unrestricted donations will provide the Director with the flexibility to seize important opportunities as they arise and will facilitate development and implementation of new approaches that serve the IEM's mission. Please click here if you would like to give to the Institute of Engineering in Medicine (IEM).
Giving Opportunities
We invite philanthropic contributions to strengthen the global pipeline of ideas and people needed to develop vital medical technologies. The following categories offer different options for recognition and focus, for gifts customizable to your vision and goals.
Recognition opportunities include sponsorship of awards and events and the namings of endowments to sustain each of these initiatives. To learn more about specific options for programs and recognition, please reach out today.

Future Giving Opportunities
Endowed Directorship
$3 million
A gift to establish the endowed directorship will be used to offset the salary and related expenses of the Director of the IEM. This endowment fund will play a critical role in the retention and future recruitment efforts of the Director position and will ensure top academic talent will continue to hold this leadership position.
Endowed Chairs
$10 million
A gift of $10 million will allow us to establish 10 endowed chairs (at a million each) and will be key to the recruiting efforts by the Director of the IEM. An endowed chair will serve to recruit outstanding scientists to join UC San Diego who will work in the IEM Centers. Each new endowed chair will introduce innovative approaches to the IEM Centers and each will assume leadership roles at UC San Diego in research and translation. These endowed chairs may also be used to retain leading faculty in the IEM Centers. 
Naming recognition opportunities are available to honor your commitment to the Institute of Engineering in Medicine. Please contact us to learn how you can support the IEM.
For more information contact:
Philip Godfrey, MSO, Institute of Engineering in Medicine (
phgodfrey@ucsd.edu
, 858-822-4278)