Laura Cervino
Assistant Professor, Radiation Medicine and Applied Sciences, UC San Diego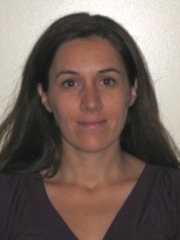 9500 Gilman Dr
La Jolla , California 92093
Bio

Dr. Cerviño's research efforts has been focused on the application of engineering to the advancement of medical imaging and radiation oncology. Her primary focus lies on exploiting different image-guided modalities in order to improve radiation therapy delivery for static and mobile tumors.

One area of interest is the implementation and use of a novel surface imaging system for patient setup and monitoring in frameless stereotactic radiosurgery and in left breast cancer treatment at deep inspiration breath hold to reduce cardiac irradiation.

Dr. Cerviño's research focuses as well on lung tumor tracking. Fluoroscopic images, surrogate tracking, and MRI-guided tracking are some of the imaging modalities and models used in the group. Joint work with Dr. Jiang and Dr. Jia targets the extension of the imaging modalities for lung tumor tracking to surface imaging, by creating surrogate models.

Dr. Cerviño collaborates with UCSD and external investigators to develope and testing image deformable registration algorithms and optimization algorithms, to be used in adaptive radiotherapy, both for external beam and brachytherapy.